Starting Tuesday, June 3rd, the advanced lottery for reservation entry will be open for additional performance of [Cheeky Parade【NINE LIVES TOUR- Cheeky Parade NATSUMATSURI-】 S.P.C!!!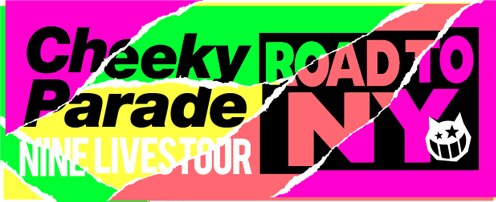 August 16th, the season "SUMMER".
【NINE LIVES TOUR】 Japan final performance.
Prior to deployment to New York, the heart of real entertainment world in October, Cheeky Parade and its fans need to tighten the loose ends. This additional performance is a preparation phase for the time to come!
The largest Japanese entertainment, the "NATSUMATURI" will be hosted by Cheeky Parade!
Raise your tention to its max with 【Cheeky Parade's NATSUMATSURI】!
Would "Cheekynology" show again, that was first introduced at the PREMIUM LIVE "THE FIRST" back on March 22nd?
Don't miss it!
☆★Show Itinerary★☆
【Date】
Saturday, Aug 16, 2014
【Venue】
EX THEATER Roppongi
HP:
http://www.tv-asahi.co.jp/ex-theater/
【Time】
≪1st Section≫ Opens @ 12:00 / Starts @ 13:00
≪2nd Section≫ Opens @ 16:00 / Starts @17:00
【Fee/Seat】
Advance Order:Standing 3,900 yen (including tax)
※Limited number:4 tickets
※You must buy a drink for¥500.
※A reference number on each ticket.
※Not free for everyone above 3 years old.
※Picture tickets are not prepared.
Visit here to register for S.P.C!
http://spc.idolstreet.jp
※PC is not applicable.
iPhone(iOS4.0 +), Android(Android2.2 +), NTTDoCoMo, KDDI(au) and SoftBank Mobile
【Entry period】
From Tuesday, June 3, 2014 at 15:00 thru Monday, June 16th, 2014 at 23:59.
【Lottery result announcement/ Payment period】
From Thursday, June 12, 2014 at 13:00 thru Monday, June 16, 2014 at 23:59.
* Please be sure to confirm you lottery results and settle your payment within this period.
【Eligibility】
Those former Mydol! members who has either registered with S.P.C or carried over his/her previous Mydol! membership data (login required after this process) between Tuesday, June 3rd, 2014, at 15:00 and Monday, June 9th, 2014 at 23:59.
* Please note that your new registration to S.P.C or carrying over your old Mydol! membership made on Monday, June 9th, the very date of application deadline, your entry for the lottery will be recognized as invalid. The best way to avoid this situation would be to complete the above mentioned ahead of time.
[Notice]
・We can't guarantee that we will be able to prepare a ticket for every single person and the reference number is not the number of the priority for the seat selection.
・The order can be canceled or changed during the reception period. Please note that once you get the ticket, you can neither cancel or change the order.
・If you applied without reading what's written in the Web site for the reception, you must be responsible for any losses that it may cause.
・We will not issue a new ticket even though you lose and reported it to us. You need to be responsible to keep your ticket.
・If any trouble occurred on the day of the performance, please talk about it the staffs there and solve the problem by yourself. We can't check what really happened if you contact the information center after the performance ended.
・We can't permit or mediate for any of your own plans to live up the mood for the performance.
・If you come with a wheelchair, please contact the contact on the ticket.
・Members might change for unavoidable reasons.