LIVE/EVENT
Cheeky Parade 【NINE LIVES TOUR~ NATSUMATSURI of Cheeky Parade】Tickets information is updated.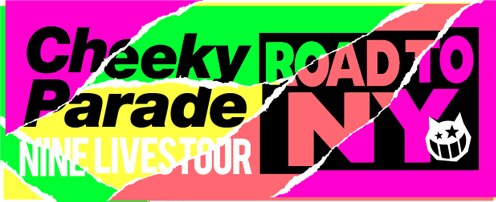 8/16 It's "Summer".now.
【NINE LIVES TOUR】Cheeky Parade shows the final performance in Japan.
Cheeky Parade and fans must unite into one before Cheeky Parade lands on NY,
which is the home of the entertainment.
Cheeky Parade holds " the summer festival" for that which is the best entertainment in Japan.
【Cheeky Parade's NATSUMATSURI】Let's reach a fever pitch with watching this event!
3/22 Cheeky Parade PREMIUM LIVE You may be able to watch "Chikinology" performed in "THE FIRST" again.
Please look forward to watching it!
☆★The date of the performance☆★
【Date】
2014/8/16(Sutarday)
【The venue】
EX THEATER ROPPONGI
Website:
http://www.tv-asahi.co.jp/ex-theater/
【Time】
《The first stage》Open 12:00/ Closed 13:00
《The second stage》Open 16:00/ Closed 17:00
【Price・the type of seats】
Advance sale of tickets: Standing seat 3,900 yen (tax included)
[General ticket sale]
Date: July 13, 2014 (SUN) from 10:00-
Click here
for detai
* Limit on sales: 1 person per performance can purchase up to 4 tickets only on the first date of the performance.
* Must buy 1 drink seperately for JPY 500.
* The numbered ticket is attached
* Buy ticket for children of age 3 and up
* No picture ticket available
【Venue Only Special Confirmed】
■Goods
For those who bought 5000 Yen and above worth of goods at the venue, you would be able to receive a one and only photo autograph by the members in a lucky draw!!10:30~sale starting time for goods. Please do buy at the venue.
■Blu-ray, DVD
At the venue, every customer who purchases "Cheeky Parade PREMIUM LIVE [THE FIRST]" Blu-ray or DVD is entitled for the poster!
The provided posters are randomized from the following:
★ Super exclusive/ "THE FIRST" poster with all members' signs
★ "Together" announcement post
Objective product.
『Cheeky Parade PREMIUM LIVE「THE FIRST」』
Blu-ray AVXD-39167 ¥6,300(Tax included)
DVD AVBD-39166 ¥5,200(Tax included)
※Please note that there are limited numbers of the product.
The beginning of sales:10:00-(Plan)